Health Insurance
All international students are required to purchase SRJC's mandatory health insurance plan.* You will be enrolled in this policy when you register for classes and billed along with your tuition fees. The cost of the plan is approximately $1,888 USD per year. You will be billed in two installments: one for the Fall semester (August 1 through December 31), and one for the Spring/Summer period (January 1 through July 31).  The insurance fee must be paid to SRJC before the beginning of each semester.
*Includes students on a Medical RCL of zero units and students seeking reinstatement to F-1 student status. Optional enrollment available for F-2 dependents, students on post-completion OPT authorization, and student athletes admitted for fall who arrive before August 1st for tryouts. 

The chosen insurance provider is GeoBlue (a licensee of the Blue Cross/Blueshield Association). We believe this plan offers you the best medical coverage at the best price. Some of the plan highlights include:
Students can choose from a large number of healthcare providers in our local area.
The policy provides excellent benefits, including a generous maximum of $250,000 per condition per year and 90% coverage for most doctor and clinic/hospital services within network.
The policy has no co-payment if you first seek medical help from the SRJC Student Health Services office. If needed, you will be referred to see a doctor, and there will be no co-payment for the doctor visit.
This policy is brokered by Academic HealthPlans, Inc. Through their website, you can learn how to use your insurance, add dependents to your policy, enroll in coverage during OPT, find a provider, get support with a claim, and much more!
Coverage Dates & Rates
Coverage is effective for the full year beginning August 1st through July 31st. Rates include insurance premiums and administrative fees. 
2023-2024 Academic Year
See 2023-2024 Plan Highlight Flyer for more information. 
 

Student

Spouse

One Child

2+ Children

FALL

08/01/2023 - 12/31/2023

$786.75
$2,975.00
$1,175.25
$2,246.25

SPRING / SUMMER

01/01/2024 - 07/31/2024

$1,101.45
$4,165.00
$1,564.15
$3,144.05

SUMMER ONLY

06/01/2024 - 07/31/2024

$314.70
$1,190.00
$446.90
$898.30
2022-2023 Academic Year
See 2022-2023 Plan Snapshot for more information. 
 

Student

Spouse

One Child

2+ Children

FALL

08/01/2022 - 12/31/2022

$749.25
$2,833.25
$1,064.00
$2,128.00

SPRING / SUMMER

01/01/2023 - 07/31/2023

$1,048.95
$3,966.55
$1,489.60
$2,979.20

SUMMER ONLY

06/01/2023 - 07/31/2023

$299.70
$1,133.30
$425.60
$851.20
Important Healthcare Information
The U.S. healthcare system can be difficult to navigate, especially for international students who are used to free healthcare in their home countries. The following information will help you know what to do in a medical emergency or whenever you need healthcare.
Proof of Insurance
Once you arrive at SRJC, please email Tina Lowe to request a laminated copy of your insurance card. Or, you may print your insurance card from GeoBlue's website. To register for an online account:
Access the GeoBlue Member Portal at www.geobluestudents.com
Click "Log In or Register," then click "For Students/Members," then click "Register Now"
Enter your "Certificate Number" (see the email from GeoBlue), Date of Birth (MM/DD/YYYY), First Name, Last Name, then click "Submit"
In the Member Hub screen (If this screen does not open, you can chose from the options on the top left of the page), click "My Plan", then click "Print ID Card"
Accessing Healthcare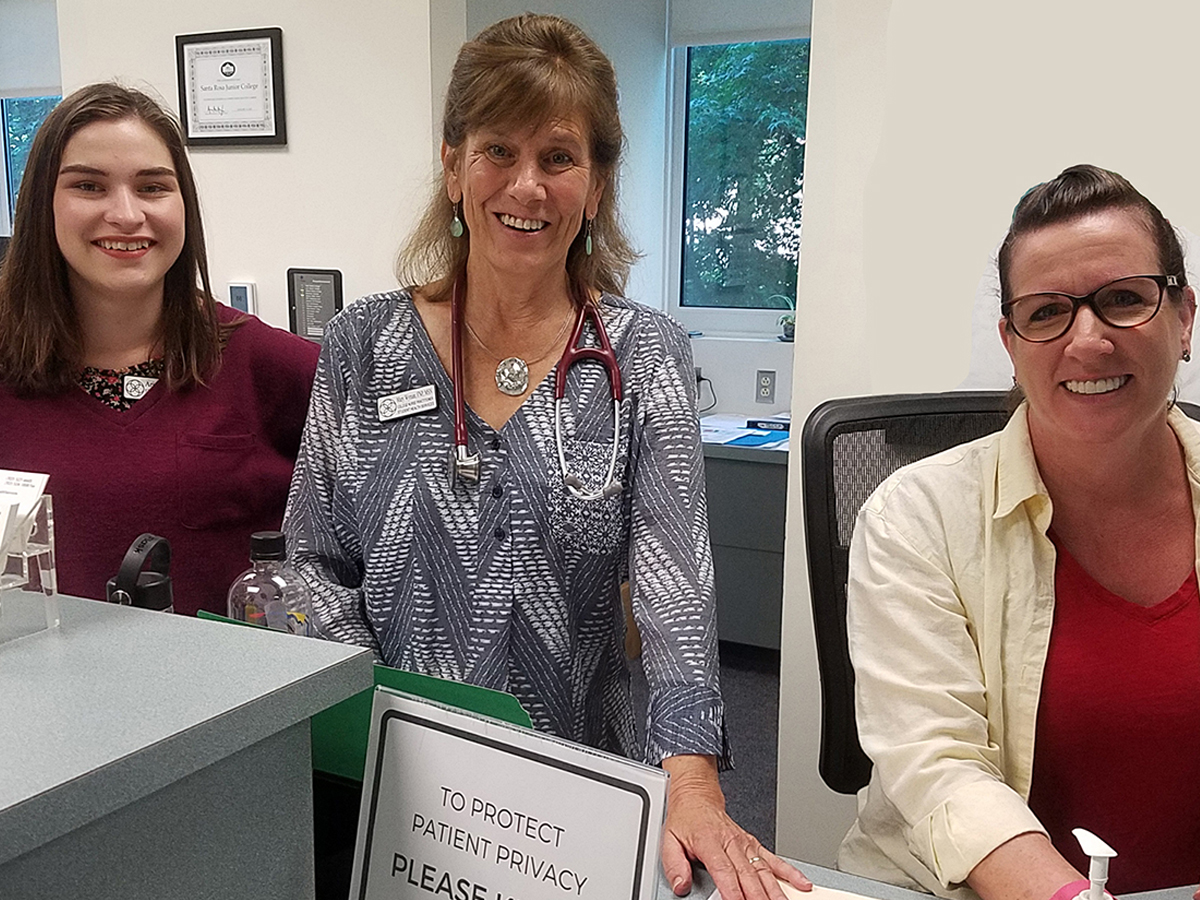 A "primary care provider" is your first point of contact for non-emergency and non-urgent health concerns. Your first stop for primary care should be the SRJC Student Health Services. You can make an appointment by calling (707) 527-4445. If you need to see a doctor more regularly, they can refer you to a primary care physician in your network. 
To find a primary care provider in your network, visit the GeoBlue website and click the link to Find a Provider in the U.S. You will need the first three letters or numbers of your member ID in order to find a doctor or a hospital. Immunizations are not covered by GeoBlue. If you need immunizations, visit Student Health Services at SRJC for help.
Emergencies
If you are experiencing a medical emergency on-campus, call SRJC District Police at 707-527-1000
If your are experiencing an emergency off-campus, DIAL 911
More information about Campus Safety can be found on the SRJC District Police website. 
If you are experiencing an illness or injury that is NOT life-threatening, you should go to an Urgent Care Facility. Emergency Rooms are for patients with life-threatening health concerns.  
Urgent Care Facilities (Covered by GeoBlue, $20 co-pay)
Emergency Rooms (Covered by GeoBlue, $100 co-pay)
Hotlines
When to use Urgent Care:
Broken bones
Sprains
Ear infections
Sinus infections and sore throats
Colds and flu symptoms
Mild asthma
Fever or rash
Animal bites
Minor cuts and burns
Work-related injuries
Digital X-rays
When to use the Emergency Room (ER):
Heart attack
Stroke
Severe, sudden pain
Severe bleeding
Severe allergic reactions
Head injuries and other traumatic injuries
Loss of consciousness/passing out
Severe trouble breathing
Chest pain
Sudden eyesight problems 
(blurriness or loss of vision)
Dental/Vision
Dental and Vision care are not included in our GeoBlue accident/illness policy, but relation Insurance also offers Supplemental Plans for Dental and Vision. Otherwise, you can seek alternate insurance and care. Below are several low-cost options to get dental and vision services in Sonoma County. 
Dental Care
The SRJC Dental Hygiene program offers limited services provided by its students at a discounted rate! These include teeth cleaning and x-ray diagnosis. Visit the Dental Hygiene program website for more information. 
You can find a listing of low cost dental insurance plans online. Below, we have gathered a list of local dentists who are willing to work with international students, accept the CareCredit card, and some even allow payment plans:
For Wisdom teeth issues, visit SRJC Student Health Services first. 
For oral facial surgery: UCSF Dental Clinic-Parnassus has low-cost services.  Call (415) 476-1891 or visit their website to book an appointment. The dental clinic is located at 707 Parnassus Avenue, Suite D-4000, San Francisco, 94143. Emergency dental care is first-come, first-serve basis.  
Vision Care
Optometry Care is not covered by GeoBlue. Here are some places in the area with low-cost vision exams and prescription glasses or contacts:
If you are having more of a medical issue with your eyes (example: blurriness, floaters, or other issues) that require an Ophthalmologist, visit SRJC Student Health Services first for a referral. 
Mental Health
Psychological Emergency Services
SRJC Psychological Services
Other Resources
Specialists
Most specialty care is covered by GeoBlue. Visit Student Health Services at SRJC first to receive a referral and waiver for the required co-pay.
Dermatology
Obstetricians/Gynecologists (OB/GYN)
SRJC Student Health Services offers reproductive health services. They can provide a referral to an outside OB/GYN if necessary. 
Sutter Health: (707) 541-7900, 34 Mark West Springs Road, Santa Rosa
Gastroenterology, Neurology, Orthopedists, Cardiologists and other specialty practices are covered by GeoBlue. Visit SRJC Student Health Services first to receive a referral.
Chiropractors, Acupuncture, Physical Therapy
GeoBlue insurance will cover these services with a referral from Student Health Services at SRJC. 
For physical therapy needs, visit SRJC Student Health Services (or your Primary Care physician) first for a referral.