ISP Orientation
New students are required to complete ISP Orientation online in Canvas. This course will equip you with the tools you'll need to be successful at SRJC. 
Canvas is the official online learning platform for SRJC. It is primarily used by faculty to communicate course information to their students. At the International Student Program (ISP), we use the same virtual tools to provide online orientation for new international students at SRJC. 
ISP Orientation is mandatory for all new and returning international students and must be completed before classes start. It takes approximately 4 hours to review the course materials and complete the assignments and quizzes. The ISP Orientation course is self-paced and you may complete it online from any location. If you do not complete ISP Orientation by the deadline, a hold will be placed on your account. ISP Orientation consists of five parts:
Part 1: Welcome to ISP Orientation 

This is where you learn about Canvas and meet the staff behind the scenes. You can also interact with other international students participating in ISP Orientation. 

Part 2: Enrollment Requirements

Classes can fill up quickly, but international students at SRJC can enroll early during priority registration! In Part 2, you will complete the necessary steps to register for classes, including guided self-placement, academic orientation, and education plan. 

Part 3: F-1 Visa Requirements

As an F-1 nonimmigrant student, your compliance with federal regulations is critically important to maintaining your legal status in the U.S. ISP is here to help you understand how to maintain F-1 status and benefits of this visa, such as summer vacation, international/domestic travel, transfer, grace periods, and employment. 

Part 4: Health Insurance

In Part 4, we will introduce you to several resources that you will need to be familiar with so that you can stay healthy and safe during your studies in the U.S. Your health and safety are very important to us, which is why we require GeoBlue health insurance coverage at SRJC.

Part 5: Student Success

SRJC is an incredible educational institution with a wide array of student services. Whatever you may need, there is someone at SRJC who can help! 
Each part consists of several lessons, containing important information and links to critical resources for further reading. You will also be asked to complete some assignments, and we will quiz you on your knowledge. You must earn 100% on all assignments and quizzes.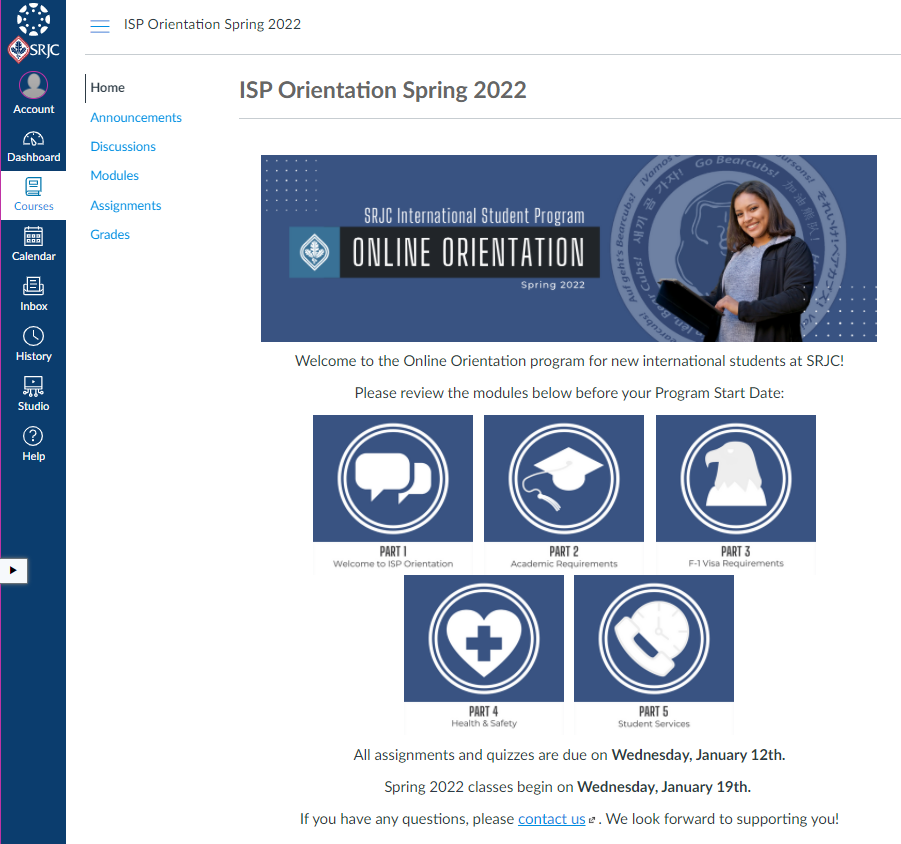 One of the ISP Orientation assignments is to complete the academic orientation provided by the Counseling department.  Please note that you will have two orientation courses in Canvas: ISP Orientation and SRJC Orientation: