SCHOLARSHIPS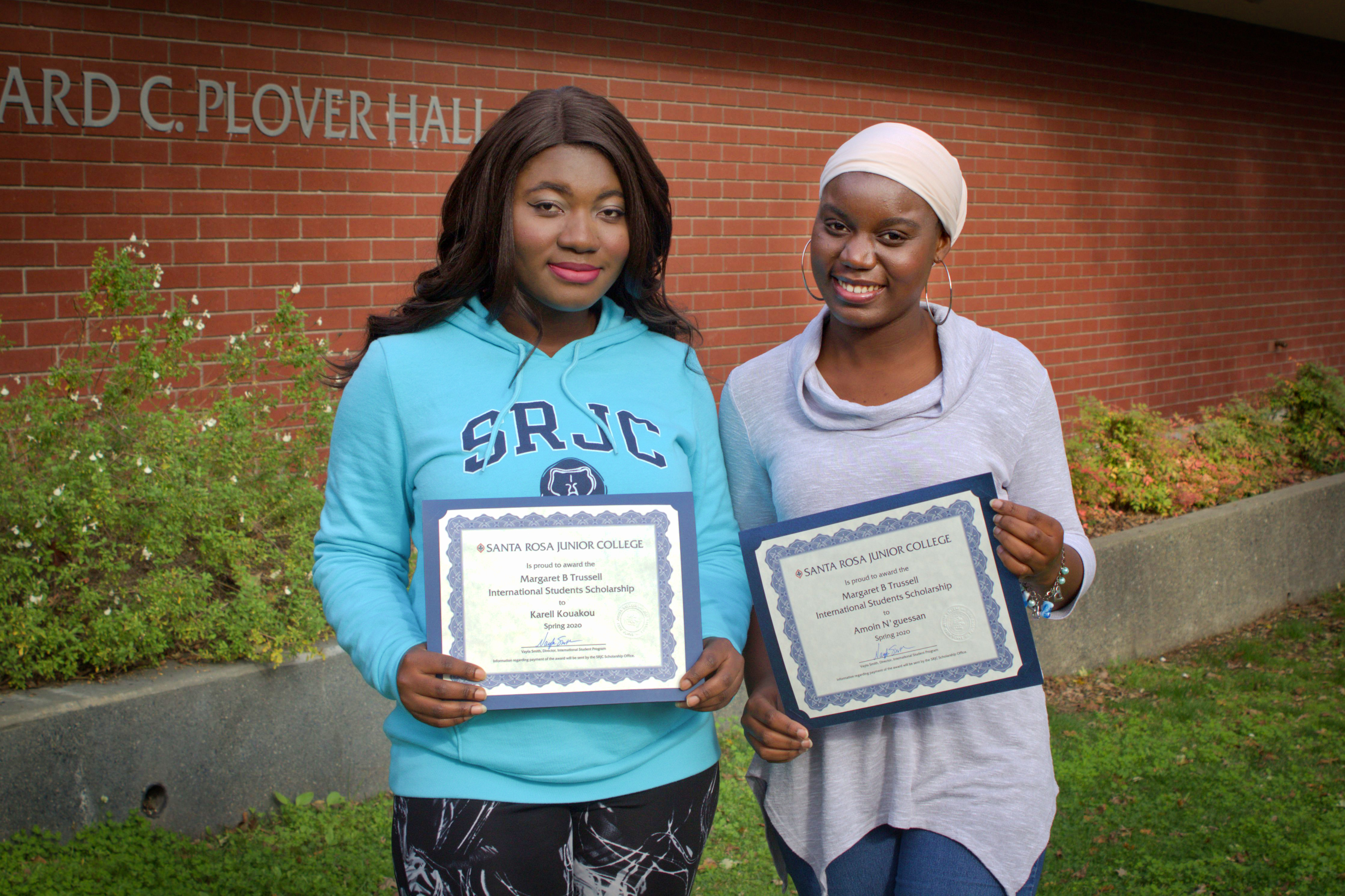 SRJC is very proud to offer a number of partial scholarships for international students. We encourage all international students to apply for scholarships, since F-1 students are not eligible for federal or state financial aid (including FAFSA, Cal Grant, Promise Grant/BOG Fee Waivers, AB 540 etc.).
SRJC now uses AwardSpring to manage all scholarship applications. Watch this video for a brief tour of the online application or a recording of our most recent Scholarship Workshop. You can also check the Online Bulletin Board to see when scholarship applications are being accepted. The application process is competitive and awards are based on grade performance (GPA) and financial need. While new students are encouraged to apply, most scholarships require 12 or more units completed and a 2.0+ GPA at SRJC. Applications are reviewed anonymously by a committee. Students can login to myfinancialaid.santarosa.edu to view their awards. Read below for more information and contact the Scholarship Office with any questions.
Doyle Scholarship
Award Amount: $1,200
Application Deadline: March 1, October 1
Starting in Fall 2021, international students can apply for the Doyle Scholarship! This is a great benefit for new and continuing F-1 students at SRJC, and our program is thrilled to be offering this wonderful scholarship opportunity to our students. 
Apply for the current semester on AwardSpring in August for Fall (October 1 deadline) and in January for Spring (March 1 deadline). Applicants for the Doyle Scholarship must be enrolled full-time at SRJC under the F-1 visa/status.  More information is available on the Doyle Scholarships website. 
International Student Scholarships
Award Amounts: $400-$1,000
Margaret B. Trussell International Students Scholarship 
Ava and Sam Guerrera International Student Scholarship
Laurie D. Judson Scholarship 
Alex Ling Memorial Scholarship for International Students 
International Students Scholarship 
Application Deadline: March 1, October 1
The SRJC Foundation receives donations from individuals, community groups, and organizations to provide scholarships to SRJC students. We are so fortunate that several donors have generously chosen to directly support international students at SRJC. Our International Student Scholarships are awarded based on academic achievement, financial need, and leadership/service to the campus and community. By completing one application, international students may be considered for over 250 scholarships, such as the Sawubona Black Student Scholarship. 
The Scholarship Office provides workshops to assist students in completing the online application and writing essays. Login to AwardSpring as early as January to apply for scholarships for the following Fall semester, or in August to apply for the Spring semester. Applicants for International Student Scholarships must be currently enrolled full-time and meet the minimum GPA requirement at SRJC (varies by award).
External Scholarships
Study California: $1,000
As a member of Study California, SRJC students are eligible and encouraged to apply for their $1,000 scholarship in October. In fact, an SRJC student from Togo won the award in 2020! Check out the StudyCalifornia website for more information. 
External Resources: 
The SRJC scholarship office's website lists a number of external scholarships. You can also use the Scholarship Search Engines on InternationalStudent.com or AffordableCollegesOnline.org for help identifying external scholarships you may qualify for.
If you're a Nursing major, use the NurseJournal.org website to find scholarship resources for internationals students.
Application Tips
The AwardSpring application requires students to submit a personal essay to help the review committee understand why you're a good candidate for a scholarship. As an applicant, you must briefly describe your background, educational and personal journey to be shared with your scholarship donor, as well as your future educational and career goals. Check out our scholarship essay writing tips for assistance.
If you have any questions about SRJC scholarships, please email Lauren Coburn or call the Scholarship Office at 1-707-527-4740.
International Scholarship Donors
Margaret Trussell (d. 1996) was a former instructor and Dean of Women at SRJC. Her contributions to SRJC as an instructor, Dean of Women, and philanthropist significantly affected the course of the institution. Margaret graduated from Santa Rosa High School in 1914 and graduated from Berkeley in 1923 with a master's degree is psychobiology. Margaret taught at Santa Rosa High School and later joined SRJC's staff in 1944.  Margaret taught child psychology, served as Dean of Women, and was instrumental in organizing the college's child care programs and nursing training programs before retiring in 1963. In the late 1980s, Margaret and her husband established two scholarships through the SRJC Foundation. At the time of their first bequest, Rhodes Trussell said, "we believe that the greatest benefit for our community, state, and nation is constant and available educational opportunity for all of our citizens."

Laurie D Judson (1925-2006) was a woman who recognized few of the boundaries most conventional people assume. Social class did not exist for her. Race was a notion she ignored. Faith, for Laurie, was defined by polite and thoughtful activism and giving to whatever community she found herself in. She shared this eclectic philosophy and approach to life in many ways with many people.  There were three primary points where she focused this philosophy and supported it with courage and boundless energy: basic justice, international understanding, and education. Education for Laurie had very little to do with exams or majors or grade point averages. It had to do with students, particularly international students new to a strange and not always hospitable land. She gave them shelter, she gave them English lessons, she gave them transportation to legal proceedings where she was always their tireless advocate, she held their hands in times of crisis, she found them jobs and books and the odd second-hand sofa. She challenged all who would question them for outward differences, whether that difference be an Islamic headscarf, a funny accent, or a lifestyle at odds with convention. She also gave hundreds of students love and friendship. What was important was that young people on the perilous road of life knew they had an ally. Many students returned her love, and joined Laurie on her journey through life. Laurie believed that the world is one, that humankind really is, as she liked to say, "the family of man."  The Laurie D. Judson Scholarship was established to support, encourage, and nurture this vision

In honor of Alex Ling, an international student at SRJC, the Trussell Family established the Alex Ling Memorial Scholarship for International Students. Margaret Trussell was the dean of women at SRJC in the 1960s and the family sponsored Alex and his brothers from Hong Kong to come to SRJC to study. All five of the brothers continued on to Cal Berkeley and graduated in different majors in the sciences. In honor of Alex, a scholarship is sponsored by the Trussell family specifically for an international student.

Mr. and Mrs. Sam and Ava Guerrera have donated funds to the International Student Program to do what the office believes would be of most benefit to our international students. The Guerreras have traveled extensively and their foreign travel has contributed so much to their lives. It has broadened their knowledge and understanding of other cultures and, thereby, significantly enriched their lives. So, they wanted to share this experience with students who are unable to avail themselves of this opportunity because of a lack of funds. The ISP team decided to offer scholarships to the international students.