Estimated Expenses
As required by the Department of Homeland Security, prospective F-1 students must provide evidence of financial support for their first year of study in the United States. The estimated cost for 9 months of attendance at SRJC, including academic and personal expenses, is $29,737 Applicants must provide evidence sufficient funding by completing the Guarantee of Financial Support (GFS) and attaching their bank statement. If a friend, relative, or other sponsor will provide funds or free housing to the student, they must complete the Declaration of Sponsor Support for the GFS. Students receiving free room and board from a local sponsor must only provide evidence of $18,070 in available funds. 
For the 2021-2022 Academic Year (Fall and Spring semesters), the estimated costs are as follows:
| Expense | Estimated Cost | Description |
| --- | --- | --- |
| SRJC Tuition and Fees | $9,078 | Includes 12 units per semester for two semesters. Tuition for nonresidents is currently $376 per unit. Subject to change annually. |
| GeoBlue Health Insurance | $1,746 | Includes Fall and Spring/Summer coverage. The GeoBlue Health Insurance fee is mandatory for all international students. Subject to change annually. |
| Room and Board | $11,667 | Based on International Student Placements Homestay pricing. Includes placement fee, security deposit, 9 months in private bedroom with meals (breakfast and dinner), and estimated cost of lunch on your own. |
| Books and Supplies | $1,972 | Based on estimates from the Financial Aid office.  |
| Transportation | $1,278 | Based on estimates from the Financial Aid office.  |
| Personal Expenses | $3,996 | Based on estimates from the Financial Aid office.  |
| Total: | $29,737 | Applicants with dependents must provide evidence of an additional $5,000 per spouse and $3,000 per child. |
---
International Student Payments
How to view your balance
Once you have registered for classes, you can login to your Student Portal to view your Class Schedule and Fees (under My Records). International students at SRJC pay nonresident fees at $376 per unit (subject to change). The Accounting Office website has a breakdown of these fees. A 12-unit schedule costs $4,535 in Spring 2022.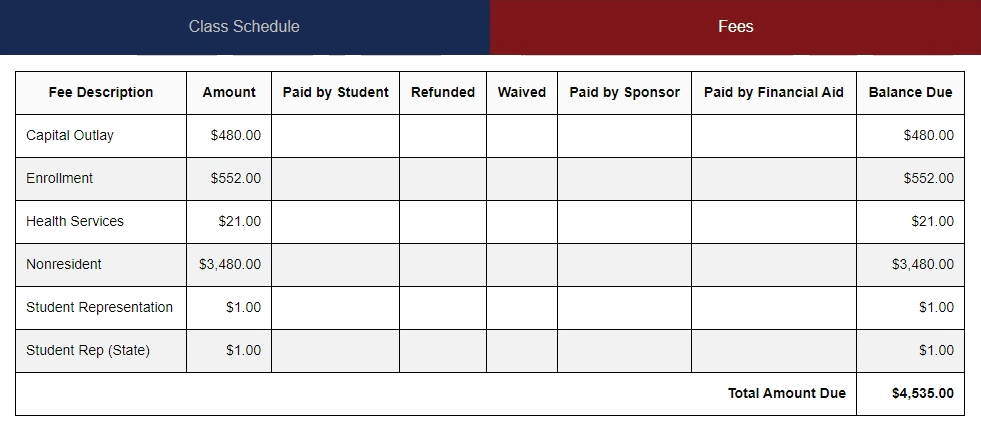 In addition to SRJC enrollment fees, international students must also purchase the F-1 Health Insurance plan. You are automatically enrolled in this plan, and you can login to your Student Portal to view the amount when you click Pay Fees* (under Financial Aid & Fees). Including health insurance, a 12-unit schedule costs $5,233.45 in Fall 2020.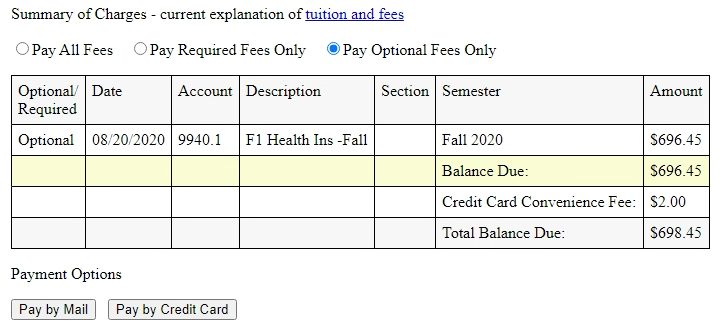 *Note that this fee is listed as optional, but it is required.
Payment deadlines
The F-1 Health Insurance payment is due by the first day of classes. If you haven't paid this fee, ISP will place a hold on your account at the beginning of the semester. The hold will prevent you from making changes to your class schedule, registering for future semesters, or obtaining your degree/certificate.
Fees are listed as due (or delinquent) in your Student Portal when classes begin. While SRJC does not have a specific payment deadline, you must pay your fees before you will be allowed to register for classes again. Typically, registration starts in late November for the Spring semester, and in late April for the Fall semester. For example, if you begin your studies in August, you should pay your fees by November to ensure you'll be allowed to register for Spring semester classes during your priority registration appointment. Because SRJC classes fill up quickly, this is especially important for international students, who must maintain their legal F-1 status by registering for 12 units in the Program of Study listed on your Form I-20.
How to pay your fees
Students can pay their fees online, via phone, by mail, or in-person. A complete list of acceptable payment methods is available on the Accounting Office website. If paying online in your Student Portal, the entire balance must be paid. If using another method, you can make partial payments until the balance is paid off.
Payment Plans
If you cannot pay the total balance due before your priority registration appointment, you may request a payment plan online. With this option, you can pay 1/3 of your balance due, and be allowed to register for another semester of classes. The remaining amount will be due in two monthly installments of one third each. You will receive a monthly email reminder with the remaining balance.
Here is a sample to-do list for students who are on a payment plan:
April: Register for Fall classes
August: Pay the Fall health insurance fee
November: Setup payment plan, play 1/3 of Fall tuition fees
December: Register for Spring classes
January: Pay the Spring health insurance fee
February: Pay 2/3 of Fall tuition fees
March: Pay 3/3 of Fall tuition fees
April: Pay Spring tuition fees and register for Fall classes
*Note that you cannot have two semesters worth of tuition fees combined on the same payment plan. You would need to pay off the first semesters' fees and the first third of the second semesters' fees before registering for a third semester of classes at SRJC. Payment plans may not be used to pay for fines like late library returns, athletic gear, or lab fees.
Refunds
The refund deadline to drop your semester-length classes and be eligible for a refund/reversal of your tuition fees is listed on the Academic Calendar. However some of the smaller fees like Health Services are non-refundable after the first day of class. If you must withdraw from SRJC and drop all of your classes after the semester begins, you may submit a petition to Admissions & Records to request a fee reversal. 
---
Banking in the U.S.
Banking for International Students - This guide provided by CreditDonkey covers the basics of banking, credit cards, and finance for international students.
---
Communication Disclaimer
Important note about email communication and the payment of fees with Santa Rosa Junior College: If you receive emails from individuals who claim to represent Santa Rosa Junior College staff, please make sure that their email domain is @santarosa.edu. Occasionally, scammers may try to represent staff members of Santa Rosa Junior College using other email domain accounts, such as @gmail.com. Do not respond to these emails. Additionally, some scammers may solicit you for payment of fees owed. Never offer credit card or bank information via email to anyone claiming to be or appearing to be a Santa Rosa Junior College employee. The official methods for fee payments are listed on the Accounting Office website.
---
Scholarships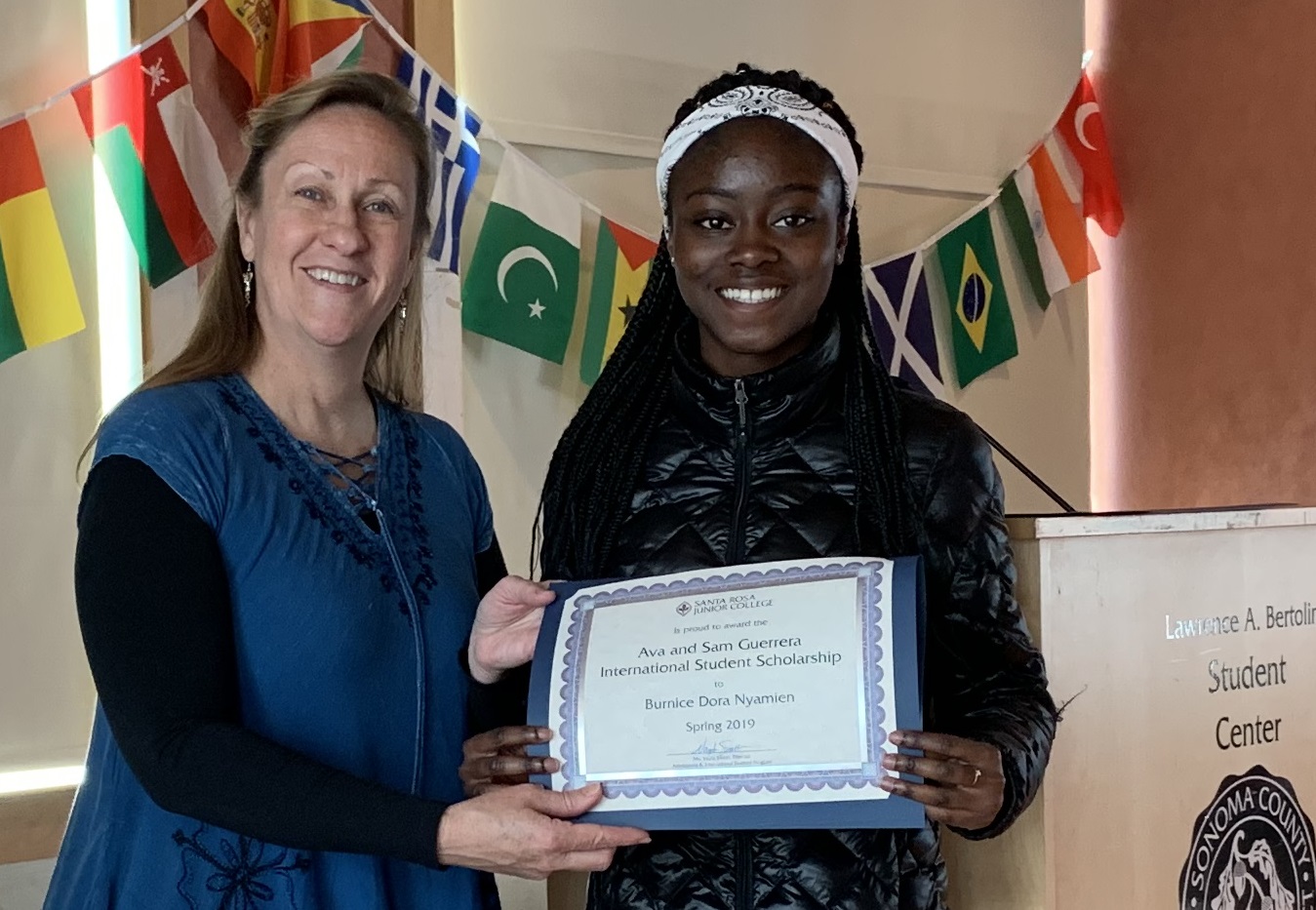 Unfortunately, international students are ineligible to apply for state or federal financial aid though FAFSA. However, SRJC is proud to offer a number of financial scholarships to international students. More information can be found on our international scholarship website.